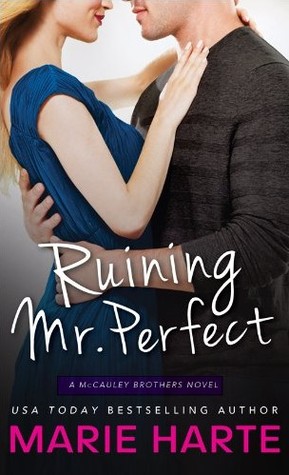 "I love you. Present tense. Just like you love me. You're just too scared to admit it." – Cameron McCauley
Somebody get me my prize or something, because I feel the urge to shout out how RIGHT I WAS FOR THE YOUNGEST MCCAULEY BROTHER!
Cameron McCauley and Vanessa Campbell are the resident geniuses of the friendly group formed by the McCauley brothers and their neighbors. Both attractive, obsessed with healthy lifestyles, and successful in the business department with great, intelligent minds, it's only natural for them to finally hook up after their friends and relatives have started dating each other. They think it will be easy with how compatible they are – but is it really fine to be with someone as right and perfect as you?
Come now, don't tell me you actually thought Cam was sissy or didn't like getting his hands dirty because of what his brothers said. I, for one, learnt my lesson with Brody. Not that I thought Cam wouldn't be hunky and hot as all hell in a sunny summer day – on the contrary, show me a cool, collected guy in a tailored suit, and I can tell you, without a doubt, that he might just be the most fun of the batch just yet. The same goes with the youngest brother here. He was calm and a gentleman, yes. He had manners, knew how to dress and what to say. But boy, that man could talk a woman's panties into doing cartwheels under her skirt – and the thing is, he knows it. He's not arrogant, he just knows the extent of his charm and that he's more than good in bed.
(seriously, Cam, I'm charging you for my ruined panties, sheesh!)
Vanessa, as you may already know, was my favorite of the girl group – though I'm suspecting I might actually fall in love with Del in the next book if she keeps the tough persona up. Everyone kept saying how cold and robotic she was – yes, Maddie, I saw what you did, and no, your cousin is NOT like you, brat! – but all I saw was a mature woman who made sure to keep her emotional outbursts in check. Was that so wrong? And she was funny and full of sarcastic lines, I don't get how that makes her cruel or boring.
Whatever… Point is, Vanessa was pretty awesome for a health freak who obsessed over cleaning. Plus, she had amazing chemistry with Cameron – I wish I could have a "years forward" button to see how their kids will be. She also knew how to push guys away without making a scene (Maddie, you really need to start taking notes). The jealous parts were a bit off, but hey, she was hormonal and she's still a hot-blooded woman, so all's forgiven IMHO.
The only problem was that we had to endure too much of the drama between Cam's parents. I felt like he was sitting in the back seat in his own story, and I don't like poor Cameron getting cheated on his book – it's enough that everyone is on his case all the time because he's different from his folks, he doesn't need to keep trying to solve their problems when he has his own love life to worry about, you know?
Even so, the book was pure awesomeness! Now I'm off to read about Mike – ABOUT FREAKING TIME! MIKE, I'M COMING, DARLING!!!!!
"I'd rather have you in my life than be right, Cameron." – Vanessa Campbell
RATING:

***I was given an ARC from the publisher via NetGalley in exchange for an honest review. The opinion stated in this review is solely mine, and no compensation was given or taken to alter it.***