Tags
Adult, fantasy, Fiction, Ilona Andrews, KATE DANIELS, Magic Strikes, paranormal, romance, shapeshifters, supernatural, urban, vampires, witches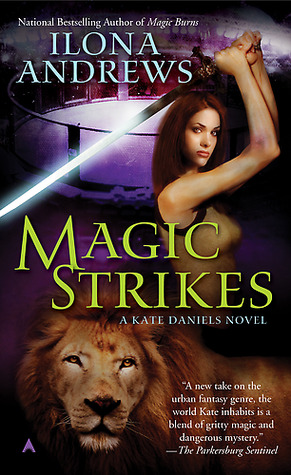 I wonder when I will tire of Kate and the weirdos that she seems to attract… Not sure I will ever be able to, but I'm not even willing to try!
Curran looked back at me. "Why is it you always attract creeps?"
"You tell me." Ha! Walked right into that one, yes, he did.
Kate Daniels has her hands full trying to keep Curran away, her kid close, and be generally safe. In this book, she enters an illegal fighting contest with Jim and many shapeshifters that we know and love – as well as some we meet for the first time – in order to avenge Derek, her werewolf sidekick, and prevent some creatures called Rakshasas from obtaining a gem that will make them invincible against shapeshifters. But forces even more dangerous than the ones she thought have a strange interest in those games of death. Forces that she knows better than most – and that she believed had escaped from…
I'm gonna give it a shot and try to write a review short and sweet here. Why? Because I don't think there's much to say at this point without fangirling!
Kate is magnificent as always. Strong, independent, and loyal to a fault, she never fails to make the best heroine there is! Add in her brilliant sense of humor, and her creativity when it comes to threatening or torturing, and you can understand why I love this woman so much. She's my female IT!
Curran was also wonderful. I think the man keeps improving. He still has some Alpha issues, but at least he's trying. Plus, now that he openly shows how much he wants Kate, it's freaking hilarious to see the banter between them! I just wonder when they will screw each other against a wall, because, with that attitude from both of them, it's bound to happen!
"To answer your question, yes, you may kiss my ass. Normally I prefer maintain my personal space, but you're a Friend of the Pack and your services have proven useful once or twice. I strive to accommodate the wishes of persons friendly to my people. My only question is, would kissing my ass be obeisance, grooming, or foreplay?"
"You thought about dragging me into your bed this morning."
"I thought about stabbing you and running away screaming. You broke into my house without permission and slobbered all over me. You're a damn lunatic! And don't give me that line about smelling my desire; I know it's bullshit."
"I didn't need to smell you. I could tell by the dreamy look in your eyes and the way your tongue licked the inside of my mouth."
Speaking of banter, it wasn't only funny – at some parts, it was really hot! And don't even remind me of the tub scene…
Before wrapping this up, I want to talk about Derek. Yes, it's well known I'd ride that wolf with no moral restraint despite the age difference. He's really my type! Still, now that he's scarred and has a deeper voice…. *sighs* Ilona Andrews, no mercy at all, huh? Derek became eeven more perfect, and I'm dying at the fact he's fictional!
Go read the book ASAP – or the first one, if you were dense enough to miss it! There's now way to get bored with Kate as your main gal!!!
RATING: