Tags
Adult, Angie Fox, cozy mystery, fantasy, ghosts, Mystery, Paranormal Romance, Southern Ghost Hunter Mysteries, Southern Spirits, suspense, urban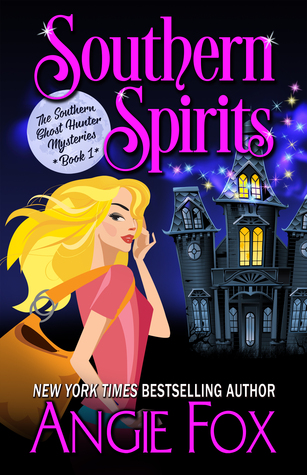 Angie Fox, you did it again, you wonderful woman!
After a disaster of a wedding ceremony, during which Verity Long turned down the town's most eligible bachelor, an accidental action of hers makes her stuck with the spirit of a dead gangster, Frankie. Now, not only does she has most of the town's residents giving her the stink eye, but she also has to find a way to keep her grandma's house. The only way to do so is to accept the mission of solving the supernatural problem her ex-fiance's brother tasks her with. But is a ghost sidekick enough to help her survive long enough to earn the money she needs, or will she soon join Frankie to the other side trying to help Ellis?
I think it goes without saying, whenever you need a good laugh and a nice dose of girly sass and mystery, Angie Fox is the go-to author! Frankie was like the ghostly Pirate (I'm still not over that adorable dog!), and his banter with Verity were hilarious and entertaining! Plus, the romance that was slowly building between Verity and Ellis was believable and pretty good. Not too fast, but not too slow, either. It was realistic and had a comfortable and well-timed pace, with many clues in the story to help the reader solve the mystery little by little.
4 I'm-laughing-so-hard-I'm-crying cupcakes for this delectable read~
RATING:

***I was given an ARC from the publisher via NetGalley in exchange for an honest review. The opinion stated in this review is solely mine, and no compensation was given or taken to alter it.***