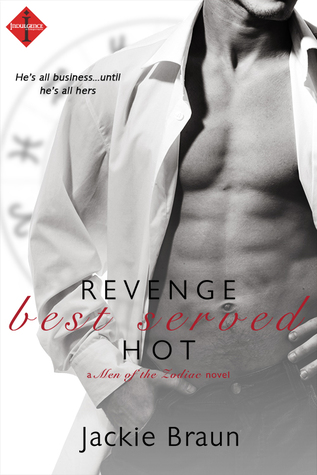 There come times in a reader's life, when a certain type of story just becomes a little too old and used. Not hated, certainly not, but missing something to turn that spark to fire, you know?
And with this book, such a fact couldn't be more true.
See, this is a story based on revenge. Brody Flynn wants Kate Douglass's father to pay for what happened to his parents. So he takes over the Douglass family company, with the intent to sell it out and completely destroy it. Fate, though, brings Kate as an obstacle, since she, too, wants the company, but as its next owner, not as a nameless employee this time around. And thus, these two start the journey to each get what they want, only to realize they're too attracted to each other…
While the whole "revenge takes unexpected turn because I fell in love with my enemy's close relative" theme has been used one too many times, some authors still manage to overcome that, and add a good dose of originality and uniqueness to turn such an overused plot to something extraordinary. Which is why the revenge theme is one of my favorites, despite the unavoidable drama and lack of honesty and trust.
Sadly, Revenge Best Served Hot was not in the same category.
I appreciated the story, and I read it in one go, however I did so because I knew that once I stopped to take a breath, I would instanly lose interest and just leave it in the DNF pile. And I did not want that. I liked the plot just fine, and it would be a shame if I just abandoned it.
But the fact remains that I would never read it again. Even with all that tension, and the hotness, there was no suspense. I did not stop to think who would do what, and what would happen every time something supposedly unexpected took place. Because I knew all of it, before it even came to be. I knew what Kate's actions were, I knew how Brody would be thinking and what he would do any time he was in doubt, I knew how Douglass Sr. would take it all in and the stupidity of all his acts.

Blame it on the many revenge-themed books I've read so far, if nothing else. This doesn't change my opinion, though. It was a nice, fast read, a little on the hot and light side, with a sprinkle of drama, perfect for an entertaining evening or a fun night – but I wouldn't count on a second date or even inviting it to my bed, if you know what I mean…
RATING:
***I was given an ARC from the publisher via NetGalley in exchange for an honest review. The opinion stated in this review is solely mine, and no compensation was given or taken to alter it.***