Tags
Adult, fantasy, Highlander, Historical, Karen Marie Moning, Kiss of the Highlander, KMM, magic, Paranormal Romance, Science Fiction, time travel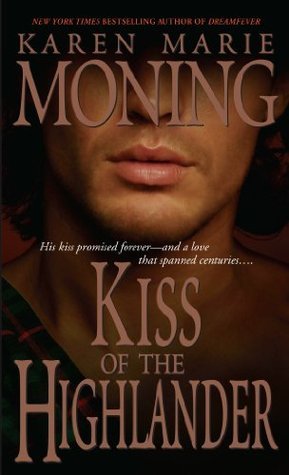 "I love you. I adore you. I will cherish you all the days of my life. I knew even back in your century that you were the one for me, the one I'd longed for all my life." – Drustan MacKeltar
If there's one thing that any respectable Highlander romance reader would feel nice about, it would be finding and reading a really awesome book of this genre. With a hot, hot, hot Highlander hunk making her swoon, and all the gist. So, wanna know what would sweeten the deal even more?
IF THAT HIGHLANDER HUNK HAD A TWIN BROTHER!!!!

As expected from KMM, Drustan MacKeltar, the fourth Highlander of her series, fits the category I just described perfectly. Hot, with the tall and muscular body covered only by the kilt – for most of the book – and that freaking accent that makes us all lose our minds and forget our names! You know, the one that turns smart girls into blabbering idiots? And guess what, he has a TWIN! (more of that later)
So, yeah, that "smart to idiot" feature? It apparently works, because Gwen Cassidy is surely a female genius, and yet the poor girl had to catch herself for the majority of this story before she all but climbed up on that man like he was the sacred apple tree! The good thing is, despite how much and fast she fell in love with the guy, she kept her level-headedness and smarts as much as she could, and she succeeded in such a way, she made me proud to call myself a woman!

See, Gwen went to Scotland to find herself a man to be her first – love the way you're thinking, girl – and ended up accidentally finding a Highlander laird who had been sleeping for five hundred years. She wakes him up, and the infuriatingly hot man wants her to help him get back to his time. At first she doesn't believe him, but when she ends up in his place back in his century, oh, she believes alright! But by now she's already in love with him, which is good, except his "future" memories are not with him, so he thinks she's trying to trick him into marriage, he believes her to be crazy, and, oh, yeah, he's engaged to a fifteen-year-old!
I already love KMM and her amazing hunks – and stories, obviously (Hawk's book shall forever be excepted, sorry). Did she have to put the "twin factor" in there, too?! Now I'm even more hooked! Plus, a heroine with a ridiculouly high IQ, who knows what she wants and chases after it brutally, and a stubborn man who's delicious in his denial and his hilarious effort to keep control over his need – what more could a gal ask for? Except, this is Moning we're talking about, so of course she makes it even better – because, what kind of awesome story would it be, without the magic and the lore and the suspense?

Want my advice? Start reading the series if you haven't already, you don't know what you're missing! Now if you'll excuse me, I'll go drool over Dageus – I think I found my IT man of this series!!!
RATING: