Tags
Adult, Contemporary, fantasy, Military, Paige Tyler, paranormal, romance, shapeshifters, Special Wolf Alpha Team, suspense, SWAT, urban, werewolves, Wolf Trouble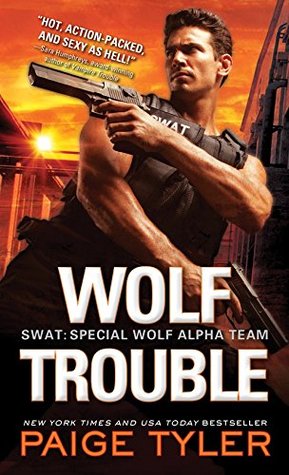 What did I tell you? Didn't I tell you no one writes cops and shifters like Paige Tyler? Ho, boy, if the first book was hot, this one was a blazing hell of hotness!!!
Xander Riggs didn't know what to expect when he finds out that his pack of werewolves has to start taking in female members. Khaki Blake, a young police officer recently turned into a werewolf herself, however, was certainly not it. The woman is all the things Xander wants – and shouldn't – for himself. How can he keep a professional distance from her? Worse, what happens when she gets put into his squad, and he starts training her personally? There's only one way to find out – and he's not sure he's gonna like it…
I have to say, I expected the second book to be as awesome as the first. Still, as it happens with talented writers, reality was even sweeter than expectations. Tyler decided that sixteen hot studs who can grow claws and are primal as hell were not enough. No, the team needed a woman of all things!
And that's where Khaki comes in. Level-headed, shy and pretty much adorable Khaki. While she was the epitome of professionalism on the field, once the guns were back in their holsters she reverted to this sweet, awkward girl who's really one of the guys, yet doesn't know how to deal with that fact. It was all because of her past, but I think that made her even more interesting.
What made her rocket to the top of my favourite female leads list, however, was this: NO BITCHING! That's right! No "I don't know what I want and what to decide, boohoo poor me" lines. No whining. No unnecessary drama and fights. She was no damsel in distress, and knew how to fight her own fights, without being a screeching banshee if one of the guys forgot her skills and stepped in – which didn't happen often, the boys knew almost instantly she was Alpha material.

The only one having trouble with figouring it out at first, was Xander. Or, maybe, he figured it out a bit too well. Whatever the case, not only did he find it hard to focus when Khaki was in the same room with him, he also worried about her to the point of it being irritating at times. He wanted her safe and out of harm's way, but he also wanted her to be competent so that he wouldn't lose face as her squad leader.
Still, I could complain about him acting like a little bitch – no pun intended – all I want, but I'm afraid I don't have the right. Xander was going through what Gage went through when he met Mac, and it was overwhelming for him – plus, Khaki's pheromones weren't exactly helping. It was fun watching him switch from sheepish crushing teenager to horny Alpha without a warning whatsoever, and I think that's one of the reasons Khaki worked so well with him. She was the calm to his anger, and he was the one who kept her grounded whenever a new discovery about her abilities made her forget safety measures.
The pack was as hot as ever, by the way. And funny as heck! I love those big cuddlers, they act all macho and tough, but are just a bunch of enormous teddy bears. And since Khaki spent much more time with them than Mac had, we got to see plenty of shirtlessness! God, yes, thank you! Speaking of shirtlessness, I seem to recall Mac accusing the guys of trying to drown Khaki with their werewolf testosterone. Hey, lady, back off! If the girl wants to drown in that thing, let her do as she pleases. You got your own sexy wolf, let some of us get a piece of the rest! If I was in that room and I was in danger of actually drowning from that thing, I would die a very happy woman, thank you very much!

I checked out the next book, and while I expected Mike, I wasn't disappointed to find out it's actually Becker's story. I'm saying it right now, though – GIVE COOPER TO THE LADIES!!! I'm serious, I've developed an unhealthy obsession with him, he keeps opening his mouth and throwing wise and sarcastic lines, I won't be able to control myself! I might hump my poor screen!!!
RATING:

***I was given an ARC from the publisher via NetGalley in exchange for an honest review. The opinion stated in this review is solely mine, and no compensation was given or taken to alter it.***