Tags
Adult, Contemporary, fantasy, Fiction, Hell's Valley, horror, jillian david, Legacy Lost, paranormal, romance, supernatural, suspense, Western
"I love you, Eric. I don't know what to do with a world that doesn't have you in it." – Shelby Taggart
Have you ever wished you were able to know what people think? To tell truth from lies, to read emotions and thoughts, to see what truly makes someone tick? Well, the Taggarts would be the first to tell you, it's not such a wonderful skill to possess.
True to what she gave us in the first book, Jillian David went on to tell the story of Shelby next – the only girl of the Taggart family. Now, before I go on, let me remind you that Shelby was Kerr's twin, who could read emotions, and most of the times suffered thanks to her abilities, since everyone's feelings seemed to reflect on her and could seriously wear her down. She also had an on-off thing going with Eric Patterson, Kerr's close friend and partner who helped with the Taggart ranch. In the previous book, Eric found out about the Taggarts' skills when they were all trying to help Sara, Garrison's beloved. It was clear from that particular scene where he defended Shelby and demanded she stopped using her powers if they were taking such a toll on her, that we knew he was gonna be the male lead in Shelby's story. And it was as pleasant as it was expected.
See, Eric didn't exactly have a stellar childhood, and his family could be described, at the very best, to be found wanting. So, he was insecure and kept his heart closed, to the point that even Shelby couldn't always read him – and that's before he found out about her family, which says a lot about Eric's self-control. However, what Shelby at first didn't know, was that Eric held a torch for her – and boy, was that thing blazing hot or what? Let me tell you, people, the moment that Eric snapped out of his tightly kept self-control, was a beautiful one indeed. The man was so full of emotions, and felt everything way too powerfully, it was simply breathtaking. He had a passion the likes of which I have rarely seen in literature, and when the dam broke and he let it all out, it was no wonder Shel freaked out and tried to back off.
This isn't of course to say that she was entirely right in her choices. During the book, Eric got hurt many times, and the poor guy was doing everything in his power to make a name for himself, a good one, all the while tripping over his feet to make Shelby see just how good they were together. I lost count of the times he got a flat out rejection not only with her words, but also with her actions.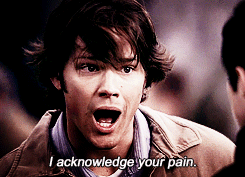 But she had her reasons, and I couldn't blame her for that. Shelby had to live with everyone's feelings projected on her tenfold, and that's a big burden to be carried by a single person. However, given her life so far, how she had to always act as the mediator between her brothers, and take care of her father who seemed hell bent on dying before it was time to do so, it's quite understandable why she would be forgetting that she, too, needed help, that she wasn't supposed to do it all alone. She seemed to get it when Eric's life was in danger – and speaking of danger, let me tell you, the way Shelby treated the Big Bad Thing in her book was marvellous! And hilarious, too, I was rolling around laughing my head off!
What I especially loved in this book – other than the hot scenes and the dialogues that can cause abs to form from all the laughter – was the comeback of some much loved characters from the Hell to Pay series. The minute I saw them, I screamed like a banshee on her first date! Holy crap I had missed them! And they got connected with the story, uniting this series with their own, and tying loose ends, all the while giving off a sense of continuation of their adventures, in a way that I had never imagined. Excellently done, Mrs. David!

Now I can't wait to read Vaughn's story – not that he's above Kerr in my Book Boyfriend List, but I sensed a little something between him and that doctor, and maaaan, I love romances where the leads butt heads! They lead to some interesting steamy make-up scenes, as proven by Eric and Shelby!
P.S.: I finally realized how the titles connect with each sibling, and it was freaking awesome!
"Shelby Taggart, would you consider a long-term relationship with a cynical cowboy like me who wants to do some pretty bad things to your body?" – Eric Patterson
***I was given an ARC from the publisher via NetGalley in exchange for an honest review. The opinion stated in this review is solely mine, and no compensation was given or taken to alter it.***
RATING: